Blenders FAQs
Can I crush ice in my blender, even if I don't have the "ice crush" feature?
Yes. Always cover ice with a liquid and process in small batches, using the highest speed available, and pulse until satisfied with texture.


Can I chop dry ingredients in my blender?
Yes. Always process in small batches and Pulse on and off (limiting run time) until mixture is at its desired texture.
Helpful Hint:


Stop and shake or stir container often.



How do I process raw vegetables?
Process in small batches.

Cut food into small pieces and drop in container
Cover with cool water
Use the High speed and pulse, shake or stir often
Drain



What is the container made of?
Styrene or glass


Are there recipes available?
Yes.


Can I change the motor clutch?
No. Internal parts (for your safety) are not available. Please contact Customer Service for further assistance.


Why does the container carry an odor?
Depending on the type of ingredient, an odor may linger within the container; simply store the container without the lid.

Helpful Hint: Rinse the container with a little diluted bleach and water solution.


What would make the motor smoke?
A "smoking motor" is usually caused from a binding between the cutting unit clutch and the clutch on the top housing, which connects to the motor. The unit should be allowed to cool down first. Then check the cutting unit to see if the blades on the cutting unit "spin freely." If the blades do not spin freely, the cutting unit needs to be replaced. Once the motor base (without container) has had a chance to cool down, it can be plugged in and turned on to see if it works properly. (If the unit was not turned off when the cutting unit locked, the motor could be damaged.)


What are the different options or speeds for?
The speeds give flexibility in the amount of power allowed from the motor to satisfy a variety of blending applications.

Helpful Hint: Our Home Economist says that she uses High and Pulse for almost everything.


Are containers and cutting units dishwasher safe?
The glass jar is top rack dishwasher safe. Dishwasher use may, however, cause the plastic container to "cloud." This is normal.

Helpful Hint: While the container is dishwasher safe, for best long-term use and care you should hand wash and dry it.

The cutting unit is not dishwasher safe and should be washed with hot soapy water.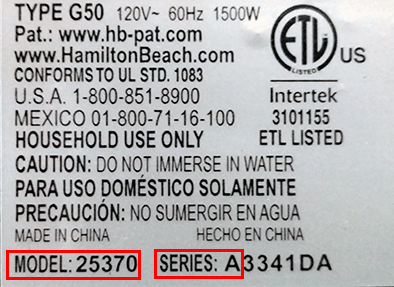 ×
If you are experiencing any difficulty viewing our website, please call 844.257.7136, Monday through Friday, 8 am through 4:30 pm Eastern. A customer service representative will assist you.