Coffee Makers FAQs
What size filters should I use?


2-12 cup basket style ADCs use standard 12 cup disposable basket type filters (any brand).
2-12 cup cone style ADCs use #4 cone filters (any brand).
1-4 cup basket style ADCs use standard 4 cup disposable basket type filters or #2 cone filters (any brand).
1-4 cup cone style ADCs use #4 cone filters (any brand).



Where do I purchase replacement parts such as carafes?
Replacement parts are available at some local discount and department stores. Otherwise carafes can be purchased directly from a Master Parts Distributor:

US: 1-800-851-8900
Canada: 1-800-267-2826

Why don't I get 12 actual (8 ounce) cups of coffee from my 12 cup ADC?
The ADC's cup size is measured in 4 to 5 ounce serving sizes, the industry standard, versus an 8 ounce measurement.


How do I clean the ADC?
To clean the INSIDE of the coffeemaker:

To prolong the life of your coffeemaker, periodic cleaning is recommended. In areas with hard water, more frequent cleaning is necessary. You may use any commercially available coffeemaker cleaner and descaler intended for home use or contact Customer Service at 1-800-851-8900 to purchase Cleancaf® made by Urnex®.

Place empty carafe on Keep-Hot Plate and place empty filter basket into coffeemaker. Firmly close rotating filter cover.
Pour one pint of plain white vinegar (or coffeemaker cleaner and descaler) into the reservoir.
Turn ON coffeemaker.
After 30 seconds turn OFF.
Wait 30 minutes to allow the vinegar to clean. Then turn ON again. When the brew cycle is finished, turn OFF.
Empty carafe and rinse. Pour one carafe of cold water into the reservoir. Place carafe on Keep-Hot Plate.
Turn ON. When the brew cycle is finished, empty the carafe. Repeat this process with one more carafe of cold tap water.
Turn OFF when complete.
Wash carafe and filter basket before making a beverage.

 

 To clean the OUTSIDE of the coffeemaker:

Unplug coffeemaker and allow to cool before cleaning.
Wipe Keep-Hot Plate with a damp cloth. Do not use abrasives.
Occasionally wipe the water spreader area under the rotating filter cover, with a clean, damp cloth to remove oils and residues resulting from the ground coffee.
To clean all other outside surfaces of the coffeemaker use a clean damp cloth.

 

To clean the carafe:
Wash carafe by hand or in dishwasher. For hard to remove soil, use baking soda or a mild cleanser. To remove hard water stains and deposits, fill carafe with hot water and add 2 tablespoons of automatic dishwasher detergent. Allow this solution to remain in the carafe overnight, then rinse the carafe. Scrub with a non-abrasive cleaner to remove any remaining residue.

Note: To make cleaning the carafe easier, we recommend that you rinse the carafe with water immediately following each use.

Why does my coffee taste bitter?
The taste of your coffee can be caused by all or any combination of the following:

variation in the mineral or chemical content of the water
the brand, quantity, or quality of coffee
the age or storage conditions of the coffee (coffee should be stored in a refrigerator in a sealed container)
granule size of the coffee grind (drip coffee makers should use medium grind while cappuccino makers should use fine grind).



What about condensation and steaming?
Depending upon humidity, condensation or steaming is normal and may result in a few drops of water around the basket or reservoir area.


What about evaporation?
As evaporation occurs, the brew will become stronger. Evaporation during brewing and absorption in the coffee bed will reduce the final brew below the starting water level.


What about the noise?
Gurgling and boiling sounds are normal and may occur near the end of the brewing cycle as the last of the water cycles through.


Can I reheat cold coffee?
The warming plate is not designed to reheat cold coffee. DO NOT pour coffee back into the reservoir. This may damage your coffeemaker.

Helpful Hint: The best way to reheat cold coffee is in a mug in the microwave.


Can I turn my ADC off and then back on, to keep the 2 hour automatic shut off from turning the unit off?
Yes, and you may hear a normal gurgling sound.


Can I pour already brewed coffee (cold) back into the reservoir to reheat?
No, it may cause damage to your coffeemaker.


Can I purchase an internal replacement part?
No, internal parts (for your safety) are not available. Please contact Customer Service for further assistance.


What temperature is normal for brewed coffee?
175° -185° F; this is the basic brew and keep-warm temperature.


Can I put my carafe in a dishwasher, use it on a stove top or in the microwave?
Carafes are top rack dishwasher safe; but do not use on a stovetop or in the microwave.


Why is the carafe not covered by warranty?
Glass is a very vulnerable material.


What material is the ADC housing made of?
The housing material is a plastic that has properties that meet all agency requirements.


Which ADCs have "auto shutoff"?
Type A11, A12, A14, A17, and A19 clock models shut off in 2 hours for any programming mode. A6 clock models only shut off automatically in the Auto mode (will not shut off automatically in the On mode).


My ADC has a brew selector feature. How does it work?
The "Brew Selector" allows you to select mild, regular, or strong coffee. The 1 dot = mild, 2 dots = regular, 3 dots = strong brew.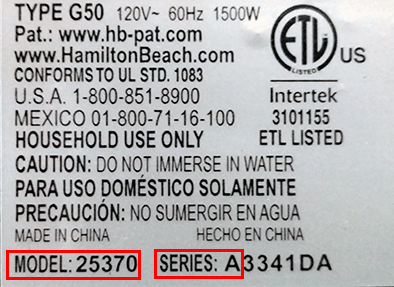 ×
If you are experiencing any difficulty viewing our website, please call 844.257.7136, Monday through Friday, 8 am through 4:30 pm Eastern. A customer service representative will assist you.