Electric Can Openers FAQs
How do you remove the under-the-cabinet can opener from the mounting bracket? And where are the screws located?
Raise the center tab up and slide the can opener to the rear. The screws are located inside the top of the unit along with the cord. This is also the cord storage.


Why are the screws so long?
Households have a variety of cabinet styles. Longer screws allow the unit to be placed in the great majority of these households.


Why does the cutting assembly drop the can?
The most likely explanation for this is that the can is not being positioned correctly. The can should be placed under the can guide arm with the lid between the drive gear and blade.


Should you be able to open large coffee cans?
Yes. The can should be held, particularly if you have a short can opener. Opener may have to be held over the side of the counter.


Should you be able to see the blade pierce the can?
Yes. When the can starts turning.


Why doesn't the blade pierce the can?
It probably does but, because the unit has an automatic shutoff feature, the blade does not pierce the can until the lever is depressed to activate the cutting operation.


Does the blade retract?
Yes


How do you replace the cutting assembly afer cleaning?
Place knob on back of lever into large end of keyhole, then push left or right (depending on your model) until it stops.


How do you use the Penguin® can opener?
To open a can, push front of cutting assembly backwards to lift the blade. Make sure the flip-up magnet is in the up position. Tilt top of can in to position cutting blade inside rim of can. Push down top of cutting assembly to start the cutting action. To remove the can, hold the can and push backwards on front of cutting assembly again. To remove the cutting assembly for washing, twist release button on front of can opener clockwise and lift out cutting assembly. Wash, rinse, and dry thoroughly. If you want to wash the cutting assembly in the dishwasher, remove flip-up magnet first by grasping one side near hinge and pulling out slightly until magnet releases from hinge. To replace cutting assembly, place it in position and firmly press both sides until it snaps into place.


How do you remove the cutting assembly for cleaning?
Raise the lever to its highest point and push the lever to the right or left (depending on your model) until it pops out of its locked position.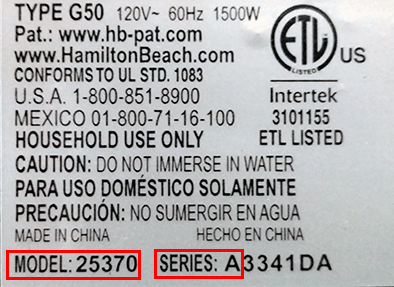 ×
If you are experiencing any difficulty viewing our website, please call 844.257.7136, Monday through Friday, 8 am through 4:30 pm Eastern. A customer service representative will assist you.