Slow Cookers FAQs
What is Auto Shift?
Auto Shift allows the slow cooker to heat up to high and then internally shift down to low, so it gives more flexibility in cooking time. Example: A certain recipe may take 4 hours on high, 5-6 hours on Auto Shift and 7-8 hours on Low.


Is the crockery liner oven, stovetop, microwave, and dishwasher safe?
The crocks are microwave, oven and dishwasher safe, do not use on stovetop.

Helpful Hint: Crocks are vulnerable to thermal shock, which is a condition caused by extreme changes in temperature. Never put a hot crock in cold water.


Are the crock and lid covered by warranty?
No, due to the vulnerable materials, the warranty excludes these items.


How do I remove the crock?
Use hot pads or mitts to remove the crock.


Does lifting the lid hinder cooking?
Yes, lifting the lid allows the steam to escape which can cool the food load.


Is it normal for the slow cooker to boil?
A slow simmering boil is normal, however a rapid boil is not.


Can I store food in my crock?
Yes, but do not expose the crock to a sudden temperature change or the crock could crack due to thermal shock.


What size Slow Cookers are available?
Proctor Silex currently makes 4 different size Slow Cookers: 3-1/2, 4-1/2, 5-1/2 and 6-1/2 quart models.


Is it normal for the outside bottom of the crock to be rough?
Yes, the crocks are not glaze finished on the bottom surface.


Why does the glass lid sit so loosely on the crock?
The lid is intentionally loose in order to let small amounts of steam escape.


Does the crock contain lead?
No. There is no lead or cadmium in the crock.


Should the bottom and legs get warm?
Yes. Although plastic is an insulator, it will heat up somewhat but will not melt.


Select models have a plastic lid including model 33430. Is it normal for condensation to accumulate on the lid?
Yes, condensation will accumulate on the underside of both the glass and plastic lids, this is normal.


What is the wattage of the slow cooker?
The wattage is located on the bottom of the appliance.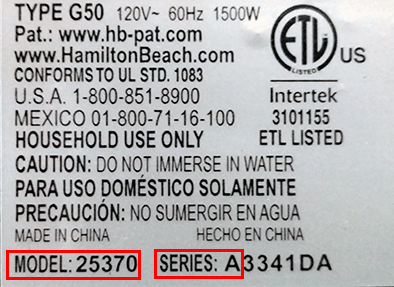 ×
If you are experiencing any difficulty viewing our website, please call 844.257.7136, Monday through Friday, 8 am through 4:30 pm Eastern. A customer service representative will assist you.