Toaster Ovens FAQs
Can you explain how to turn the rack over to have it in the high or low position?
Open the door to remove the rack, flip it over, and re-install on the correct guides. For illustrations, consult your Use & Care guide.


What position should the rack be in for toasting, baking, or broiling?
Toasting bread and frozen pastries - UP
Toasting bagels and most baking - DOWN
Broiling requires use of pan and broiling rack in the UP position.(this feature found on selected models).


With what should I clean the pan and broil grid?
Hand clean using hot soapy water per your Use & Care Guide. You can place the pan and broil grid in the dishwasher, but this will discolor it.


What is the wattage and voltage of the oven?
This information is stated on the bottom of the product. It will vary by model.


How do you top brown when both elements are on?
Since top browning is generally a quick process, the bottom elements will not affect the results.


Why are the knobs more difficult to turn on models O3005 and O3008?
These are "manual models" and a characteristic of that design.


Which toaster ovens come with the pan and grid?
The ovens with the broil feature include a pan and grid.


Why doesn't the door close tightly?
There is a hidden spring that closes the door. If the tension in the spring has stretched, the door will not close flush with the unit.


What causes my oven to turn dark and around the control knobs?
Some discoloration will occur through time and use of the product.


What are the external measurements?
Our current models measure 16" wide, 11" deep, and 7-1/4" high across the widest points.
Model 31410: 16" wide, 11" deep, and 9" high.


Can I use Pyrex® or glass baking dishes inside the oven?
Most manufacturers of glass ovenware do not recommend using their product in any type of toaster oven.


Can I use aluminum foil in the oven?
Yes, but do not allow it to come into contact with the heating elements. Do not use to cover the crumb tray.


What can I clean the inside of the oven with?
Non-abrasive cleaners. Do not use oven cleaners.


Which elements should come on during the various settings?


Broil: top and bottom on some units; top only on others

Bake: top and bottom during preheat, then both cycle

Top Brown: top and bottom on some units; top only on others

Toast: top and bottom



What are the inside dimensions of the toaster oven?
Our current models measure 11" wide, 9" deep, and 5" high.
Model 31410: 11-1/4" wide, 9-1/4" deep, and 4" high.


Why is there no bell or tone to notify me that my toast is finished?
There are various features for individual models. Some older models were not designed with a bell. Current models have a lever that pops up. The IntelliToast™ Toaster Oven/Broilers do have a "toast ready" tone.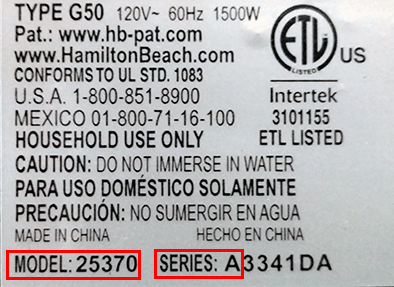 ×
If you are experiencing any difficulty viewing our website, please call 844.257.7136, Monday through Friday, 8 am through 4:30 pm Eastern. A customer service representative will assist you.