Parts and Accessories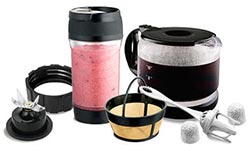 Keep your Proctor Silex products working efficiently with our replacement air filters, water filters, and blender parts.
If you cannot find the replacement part or accessory you need in this area, please call our Consumer Affairs call center toll free at 1-800-851-8900. Our knowledgeable personnel have access to a wide range of Proctor Silex parts and accessories and are always happy to assist you.
Search
To get started, simply enter the model number of the product for which you need a part. Or, if you know the part number, enter that. Press the "Search" button when you are done.
In some cases, a model number is not sufficient to identify the product's part. In such a situation, you will be asked to provide a series code, also.
Where Do I Find It?
Are you trying to locate a model number or series code?
To locate your model number or series code, look at the rating label either printed or molded on the appliance. Click on the link below to see an example of a rating label with locations of model number and series code shown.
View sample rating label.