If you love homemade waffle and chaffle dishes, a waffle maker is a must-have addition to your kitchen. These affordable small appliances are surprisingly versatile and great for preparing all sorts of breakfast, brunch, and even dinner dishes with ease. But how do you make restaurant-worthy waffles that are crispy and golden-brown on the outside and deliciously soft on the inside? We've got you covered with tips and tricks from our Test Kitchen, plus time-saving care and cleaning advice that will extend the life of your waffle maker for years to come.
How to choose a waffle maker
A waffle maker, or waffle iron, is a small kitchen appliance that consists of two metal hot plates that, when filled with batter and pressed together, create a golden-brown grid of crispy dough perfect for catching butter, syrup, and other toppings. The waffle maker you choose will depend on the type of waffle you want to make. For fluffy Belgian waffles, you'll need a Flip Belgian waffle maker with plates that have deep pockets. If kitchen space is a concern, a Petite Waffle Maker will make delicious waffles in 2 minutes and is small enough to be easily stored in a kitchen drawer. To make sugar cones, taco waffles, and waffle bowls, the Proctor Silex® 
Waffle Cone and Bowl Maker will be a fun and versatile addition to your kitchen.
Tips for cooking with a waffle maker
A Use & Care Guide will be included with your Proctor Silex waffle maker so be sure to follow the directions. Here are a few universal tips to get started:
Using fresh batter results in fluffier waffles.
Most waffle recipes can be poured directly onto the nonstick waffle grids but it can be helpful to use a cooking spray for dessert waffles or any recipe with a lot of sugar.
The indicator light will alert you when the preheating process is complete, and your waffle maker is ready for the batter.
Pour 3/4 cup batter into the center of the grids, allowing the batter to spread for even filling. Adjust the amount of batter as needed.
Waffles are usually done in less than 5 minutes, depending on the recipe and the model of your waffle maker.
Remove waffles with plastic or wooden utensil. Never use metal. This will damage the nonstick coating.
*Consult the use and care guide for your waffle maker for additional information.
Tips for serving and storing waffles
Make waffles ahead of time and kept them warm in a 200°F (90°C) oven until you're ready to serve.
To store waffles, let cool and then pack in an airtight container. Store in refrigerator or freezer. Waffles can be reheated in a microwave oven, a toaster oven, a toaster, or a regular oven. For further instructions, refer to your appliance's use and care guide.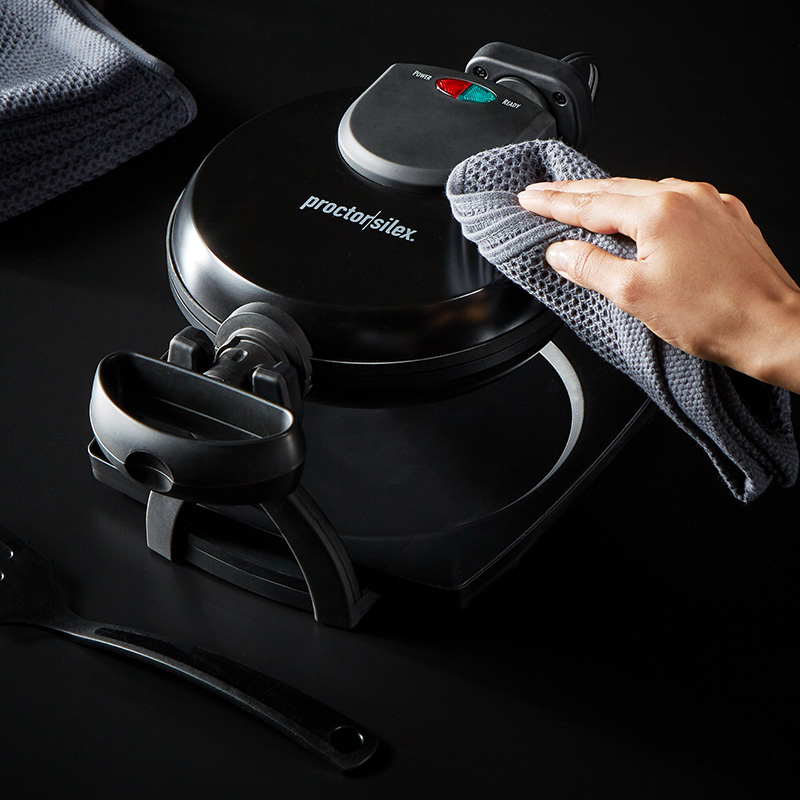 Tips for Cleaning Your Waffle Maker
Always refer to your waffle maker's use and care manual for specific care and cleaning instructions.   
If you need to lightly oil the waffle maker grids, it's better to brush it on with a heat-proof pastry brush or use oil in a non-aerosol spray bottle. Aerosol cooking sprays can leave a sticky residue on the nonstick surface.  
Clean the exterior of your waffle maker when it is cool. Use a soft, damp cloth.  
Avoid using sharp or metal tools to clean off cooked-on batter. This may scratch the nonstick surface and create future problems with waffles sticking. 
Clean the waffle maker's grids with a soft, damp towel. To clean excess residue in the waffle maker grids, wrap a small piece of paper towel around a toothbrush or the end of a skewer. Dampen it slightly with white vinegar and wipe out the oil and residue in the grids. Follow with a clean, damp cloth. 
Never immerse the waffle maker in water.
Recipes for your waffle maker
Sure, waffle makers make great breakfast waffles, but these versatile little appliances are capable of so much more. From churro waffles to pizza waffles, our Test Kitchen recipe hacks will make the waffle maker your go-to kitchen gear for quick and easy brunch, lunch, dinner, and dessert.